For anyone with an internet connection and an inkling of fashion interest, confusion over the name and status of Italian brand Mario Valentino has become an unnecessary distraction. Contrary to some beliefs, the (Mario) Valentino brand is a reputable and respected brand. Established in the early 1950s by father Vincenzo, the name was changed to Mario Valentino when his son later took over the business. Initially, a leather shoe brand, MV continued in the leather goods business until the likes of Lagerfeld and Armani came on board as designers in the 70s and 80s, aided by sophisticated advertorials by photographers such as Helmut Newton and Robert Mapplethorpe. 
 
MV has never achieved a seat at the top fashion. In recent years, the situations have become further muddled, with licensees March Capital producing bags and accessories that play on the popularity of the Valentino name.  

But it's important to understand where Mario Valentino stands in the fashion stakes before coming to any snobbish conclusions. Mario Valentino is, historically, a brand of note, and today makes high quality, premium products that are fun, somewhat irreverent and that you should enjoy having as a part of a dynamic and varied wardrobe. 

 
Is Valentino Garavani and Mario Valentino the same?

 
Valentino – the very name suggests pure Italian style, passion and flair. Alas, there is still some confusion in fashion circles about which Valentino fashion lovers re referring to. To clarify: The former, Valentino Garavani, is the international style icon famous for wanting to make women (and a host of stars including Audrey Hepburn and Sophia Lauren) beautiful in divine creations that include the poppy coloured Valentino red dress.
The latter (although by no means lesser) Valentino, Mario is a completely different entity. Also famous for making luxury women's clothing and accessories, MV Items – rather than rhapsodizing over the female figure in envelope-pushing asymmetry and patterning – are more inclined to a leather look and feel; a punchier, fun take on modern female fashion.
In short: they are completely different companies!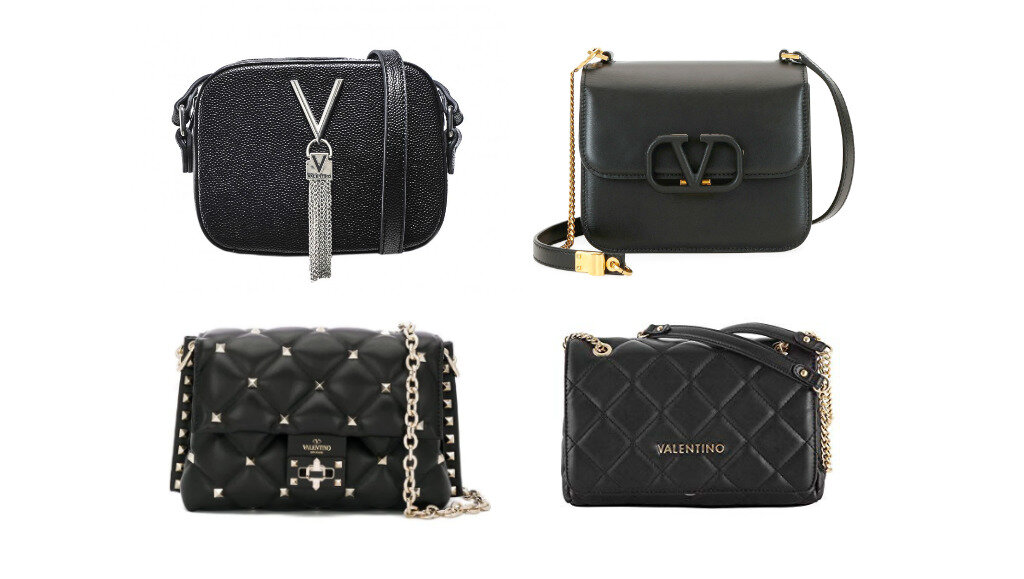 Is Mario Valentino a luxury brand or a premium brand?
In answer to this question, you have to define the difference between luxury and premium; terms that – in an age of mass-market copying and the crossing of luxury and casual-wear lines in both directions – are becoming increasingly unclear. Luxury is the concern of brands such as Cartier and Hermes, the couture collection of designers making clothes that serve no purpose other than to look stunning (and perhaps to wear to a Hollywood acceptance speech or attend a royal wedding).  
Mario Valentino falls into the premium brand category along with Calvin Klein, DKNY and Diesel. Clothes and accessories that are very well made and that look and feel great; that knock on the door of those luxury brands and demand to be respected when worn well by the discerning fashion lover.
Mario Valentino Bag materials

 
Mario Valentino bags and products are famous for their leather heritage but also come in a variety of different materials, including polyurethane. Mario Valentino bags materials are of the highest build and design quality. Designer bags without the price tag of couture brands.
 

Valentino by Mario Valentino - Popular picks at Linvelles.
Visiting our website, we will assume you are a conscientious and discerning style buyer. The following suggestions for Mario Valentino bags should pique your interest without compromising on those qualities.

Satiro Shoulder Bag
A cute and subtly chic shoulder bag in matt poppy red featuring metal fasteners and a removable shoulder strap. With three lined compartments and the same number of internal pockets, the Satiro is the perfect accompaniment to work or play, day or night. If there is only one shoulder bag that you'll buy, you could do worse than to start here.

Gigante Tote Bag
Gigantic in spirit and design, the practical tote is a practical shoulder bag with a removable strap and four pockets as well as two internal lined compartments. Durability and no-fuss style are their trademarks, making it the perfect bag for shopping trips or long lazy days at the beach or park.

Liuto Fluo Backpack
A cute little backpack in a variety of colours, the Liuto Fluo is the best summation of what fun, camp Italian style is all about. Not afraid to wear its allegiances on its hip, emblazoned with the Valentino name and featuring the eponymous Valentino imprint in (slightly) subtler hews.

Fauno Red Crossbody Bag
In unapologetic red with a smart zigzag design, the Fauno is a Valentino crossbody bag that offers a snappy addition to an all-black wardrobe or could be accessorized with white gold earrings and a watch. Either way, no compromise is its calling card.



Buy Now, Pay Later for all Mario Valentino bags.
With Mario Valentino Clearpay and Mario Valentino Klarna payment options, you're able to pay in interest-free monthly instalments for designer bags with Linvelles when you shop on our website. If you've previously shopped with us, you'll know that the customer experience is tailored to how you prefer to shop and pay on all designer bags. As you continue to use our website, we'll assume you are happy to receive updates, reviews and promotions, especially selected by us, for you.