Mario Valentino was born in Naples, Italy. His father Vincenzo is a shoemaker of high-end clients. He learned the trade of leather since he was young and began reselling in Naples.
In 1952, Mario opened his studio and launched his brand under the Valentino trademark. He produces leather goods for the rich. His designs are not patterned after his father's. He created designs that are avant-garde, fashionable, and edgy. He would produce brightly coloured stilettos for trendy women. His brand is famous to the royals, celebrities, and aristocrats during his time.
In 1954, he designed a simple flat sandal with a coral flower and two fine threads of coral beads. When it debuted in Rome's Alta Moda fashion week, it caused a stir among the watchers and press. The original shoes are in Bally Museum in Switzerland. This footwear earned his brand an editorial in French Vogue and a contract in Miller New York Studio. At that time the Miller is the only company in the Americas that imports leather goods and luxury items to the United States.
In 1968, the production of handbags and leather goods for women started. By the '70s, the brand collaborated with famous designers like Karl Lagerfield, Gianni Versace, and Giorgio Armani. Mario Valentino also produced leather jackets and women's clothing. The brand worked with well-known models. It was photographed by notable photographers in the industry like Richard Avedon, Helmut Newton, Tyen, Robert Mapplethorpe, and Oliviero Toscani.
In 1979, Mario Valentino joined the Milan Fashion week for the first time. His designs and superb craftsmanship of his team earned the admiration of very important people. He had clients like Jacqueline Kennedy Onassis, Maria Callas, Consuelo Crespi, Elizabeth Taylor, Catherine Deneuve and Catherine Spaak, Monica Vitti, Ilaria Occhini, Marcello Mastroianni, Laura Efrikian and Stefania Sandrelli.
In the '80s, several boutiques opened in North America, Japan, and throughout Europe. After Mario Valentino's death, his son Enzo Valentino continued the legacy. In 2013, a license was granted to Yarch Capital to design and sell handbags under the brand of Mario Valentino.
Is Valentino Garavani and Mario Valentino the same?
While many might think that the two brands are related, the truth is, they are not. Valentino Garavani is a couture house founded in 1960 in Rome Italy, a few years later after Mario Valentino. In 1969, Valentino Garavani opened their RTW line, a year later after Mario Valentino's handbag and women's wear line.
During the 1970s, Valentino Garavani was hailed by Vogue as one of the top 12 RTW designers in Europe. In 1998, the brand was sold to Holding di Partecipazioni Industriali which sold it to Marzotto in 2002. Valentino Garavani is a luxury brand while Mario Valentino is a premium designer brand.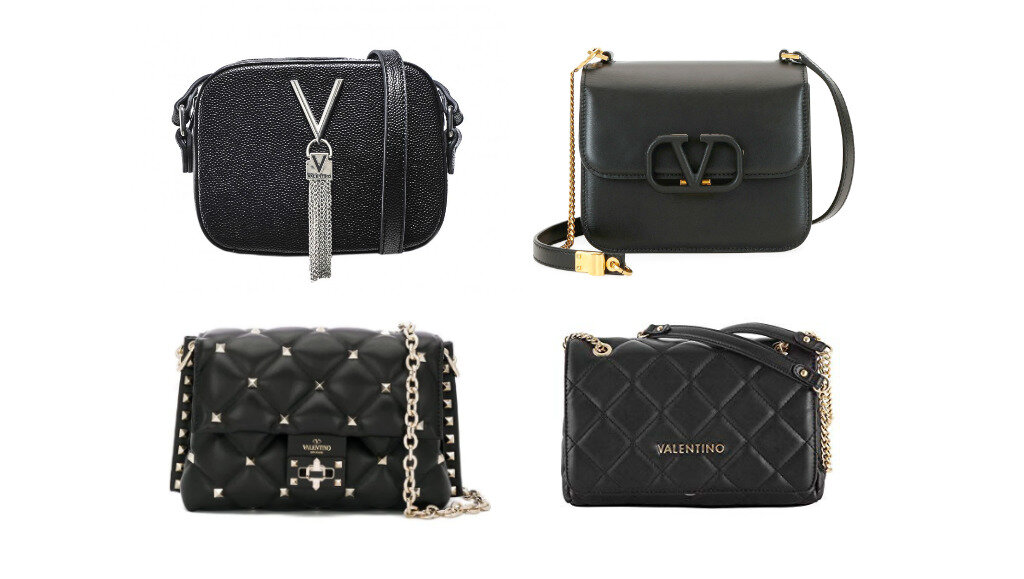 Is Mario Valentino a luxury brand or a premium brand?
Mario Valentino is a premium designer brand. Their handbags have the signature V logo for Valentino. Back in 1979, Mario Valentino and Valentino Garavani entered a co-existence agreement. It is due to the increasing confusion among consumers on the Valentino brand.
Based on the agreement, Mario Valentino is permitted to use the full name of the brand, Valentino by Mario Valentino or M. Valentino. It can use the letters MV or V on the outside and Mario Valentino on the inside packaging of all the goods made of leather and similar materials.
Mario Valentino Bag materials
Mario Valentino uses genuine leather materials for the premium handbags and their shoe collection. The brand also uses calfskin and sheepskin for its bags to accessories. At present, imitation leather is also used for the more affordable Mario Valentino bags. It uses Sauvage, Chevron, Palmelatto leather, etc. for its shoulder bag, wallet, and many other handbag designs.
Mario Valentino popular picks at Linvelles 
At Linvelles, you'll find high-end fashion items from the best boutiques across Europe. Here are the popular Mario Valentino bags on the market.
Satiro Shoulder Bag
The Satiro bag is a stylish and sophisticated Valentino design made out of Polyurethane material. It has a removable shoulder strap has three pockets with internal compartments.
Gigante Tote bag
This design fuses style with practicality. The Mario Valentino Gigante tote bag is made of polyurethane fabric and has two handles with removable shoulder straps. It also has a metallic fastening, two compartments, and four internal pockets. What makes its design unique is the buckle strap in the middle with material that is the same used on the lining of the compartment. 
Gigante Crossbody bag
This Valentino Crossbody bag has an adjustable shoulder strap with one compartment. It is made of polyurethane fabric. The look is similar to the Gigante tote where it has a buckle strap with the same material as the lining.
Liuto Fluo Backpack
This daypack for women is made of 100% Polyurethane on the exterior and 100% Polyester on the interior. It has one lined compartment and enough space to carry everyday essentials. It has an outside pocket for additional storage.
Fauno Red Crossbody Bag
This woman's chic bag is made out of polyurethane or synthetic leather. It has a removable shoulder strap and has three lined compartments. This red bag is perfect for your everyday casual strut.
Shop on our website to enjoy several payment methods. If you prefer to shop using major credit cards like Visa, Mastercard, Discover, American Express, etc. we're more than happy to receive it. Please add to the cart all items your wish to purchase or click buy it now.
Buy now using Mario Valentino Clearpay or Mario Valentino Klarna by splitting your payments. Receive your order up-front and pay later. Continue to use our website to find designer bags at discounted rates. We always value customer experience, and so we want to provide all available payment methods as possible.
If you previously shopped and continue to use our website, we assume you are happy with your purchase and satisfied with our services.