Choosing a Love Moschino Backpack is Choosing to be Different
Choosing a backpack should be a fairly straightforward task. Your job is essentially to find a large enough bag with a good capacity and a pleasing design, all to suit whatever you intend to use it for. A trip to your local sporting goods store, supermarket or an online search will help you locate a good option in no time at all.
Add a designer name to the equation and you're changing the rules of engagement slightly. If that designer name happens to be Love Moschino, then some would argue you're taking your shopping trip a little too seriously.
Nonsense! You can never take Love Moschino too seriously, even as the brand makes fun of itself and the fashion industry in general. In Love Moschino backpacks, you're no longer searching for a backpack, you're searching to make a style statement, and you want to do that in very specific and rather dramatic and irreverent style. You're conscious of the Moschino look, and that Love Moschino bags and clothing make no apologies in their mission to make a similarly bold statement.
To get a real handle (no pun intended) on what a Love Moschino backpack implies, one has to look no further than the related luxury Moschino line, from which all their related diffusion lines and collaborations take their cue. Retailing far north of the premium price range, Moschino backpacks for the current season sing a rock n' roll love song to a 50s America in plush leather. Note abundant zips and brazen use of the eponymous name. Elsewhere they go aggressively cute with rose or teddy bear emblems or are studded and clasped against all-black leather.
One things for sure, Moschino doesn't easily do subtle. Some would (wrongly) argue that they don't really do much of anything – a Moschino collection is often irreverent and sexy, but what's its place and where, exactly, do you wear it?
If you've read this far, you'll know that these questions are the whole point of Moschino. You're wearing a Moschino dress or carrying one of their shoulder bags partly because they just look fabulous and also because you're making a statement against the very idea of making a statement at all. This is just fashion … at any price.
So when choosing a Love Moschino backpack you'll probably be guided by the very same mantra: You may already have one of their premium handbags and you know your backpack should look great and should be guided primarily by your call to style. Yes, it should be clearly influenced by what Moschino is doing (always worth checking current and previous seasons in Vogue). Beyond that, it should be practical, with a generous capacity. Which is where we get started.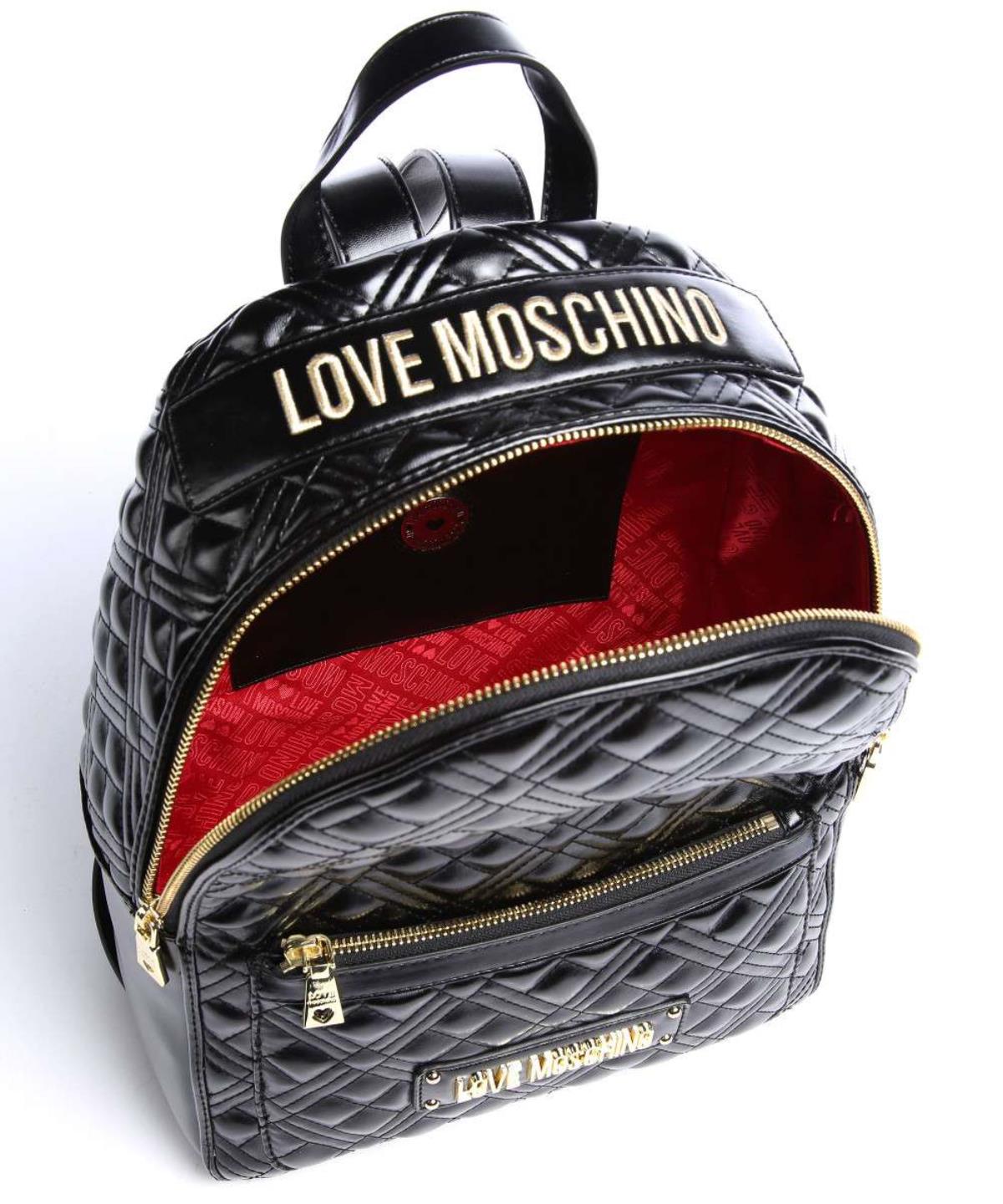 Linvelles Favourite Love Moschino Backpacks
Diamond Quilted Heart Backpack
The Love Moschino quilted heart backpack offers a pared-down vision of the super-cute teddy bear bag and the rock n' roll studded collection from the main line, for a slightly more sensible set of priorities and activities. Cool blue is the go-to choice here but the silver/grey variant provides a more fitting homage to the 50s themes that inspire the whole brand. A Polyurethane construction features a single internal compartment with two internal and one external pocket. Standing at 26cm with a width of 23cm.
Super Quilted Backpack
Some people are going to have problems with the fact it's not leather. That really is their problem, and it misses the whole point of anything Moschino-related. The shiny quilted finish is a backhanded compliment to stuffy etiquette and the kind of roped-off members' rooms where only the elite purchase expensive goods.
An almost Warhol-like elevation of a copy is what you have here: Brash enough to not want to match the original, innocent enough to think that it's as good as the original anyway. All in a backpack! Opt for a Moschino square studs backpack for a livelier rock n' roll vibe. Made from polyurethane with a fastening zip, single lined compartment and one internal pocket. Stands at 23cm and 19 cm in width.
Diamond Quilted Backpack
Same idea, different vibe to the quilted backpack. In oh-so-serious black or pearly white. Our favourite is actually fire-engine red: the punchy synthetic fabric is interlaced with prominent stitching for a boxing-glove look, while the stud-embossed label and Love Moschino name look like a world championship belt. Hits well above its weight. Made from synthetic leather with a main fastening zip. With one lined internal compartment, one internal and one external pocket. Standing tall at 38cm with a width of 28cm.
Repeat Logo Backpack
The repeat logo backpack is ostensibly different than other backpacks in the Love Moschino range in that it has no obvious precedents in the main Moschino line. This could be seen as adopting a more sensible approach. Or is it just a case that its wearers love Moschino so much that they have to keep stating it? In Polyurethane with a main fastening zip. Features one lined internal compartment, one internal and one external pocket. A height of 31cm and width of 26cm
Plain Heart
The Heart backpack says it clearly. Remember that roses are a theme of the main Moschino line and true romance is an Italian theme through and through. Once again we've gone from a simple statement of adoration into some subtle nod to fifties rock n' roll here. You don't need a tattoo or a bikers' jacket (although it's fine by us if you've got either) to rock with the plain heart. Plain simple. Polyurethane with top-zip fastening; one main compartment and an internal slip pocket
Payment options to Suit You
Buy now, pay later on our full range of Love Moschino backpacks. With Klarna and ClearPay options to split the costs, interest free, over monthly instalments.