Where are you Going?
Holidays are back! As travel restrictions ease and destination options begin to open up again – and even as prices stay higher than a lifeguard's view – you can begin to dream and plan for your next getaway.
One of the most important things to consider in advance of your break is what bags you'll be taking with you.
We're not strictly talking luggage here, although luggage brands in the premium and luxury sector offer a wide range of goods: cool, strong, and light variants from standard suitcases to medium sized and larger travel bags. American Tourister is a good brand to look at, then upscale in price and features to meet your needs.
Here, we're focusing on the bag you'll be carrying around with you during your vacation and as carry-on luggage.
Holiday Bag Rules
Generally, find a balanced size that offers volume with agility. Bags with adjustable straps, side handles and shoulder handles offer flexibility on the move but frequently fall into the duffle bag/backpack category that you might be looking to avoid. Simplicity is always good, but you want to avoid gym or 'laundry bag' plainness.
If volume is a must, then holdalls best come in muted colours [black or brown]. It certainly won't harm if a bespoke name like Burberry features on the front, even if you are only flying economy!
Also consider …
What kind of holiday is it?
Beach holidays require a bag that is durable enough to withstand water, sand and food on-the-go, and that can carry towels and creams. City breaks mean you'll be carrying your bag more, so it probably needs to be stylish enough to look the part at decent restaurants, whilst also carrying your essentials and 'ad hoc' shopping items.
What's the weather like?
If the weather is hot, you may not want to carry much, or you'll be intentionally close to the beach or your hotel, where bag needs are simplified. Conversely, cold weather means you could be carrying an extra sweater or skiing gear, or that you're in town to see the sites with a whole day on the go.
How much walking will you be doing?
Lots of walking/hiking means lots of open space between where you can store stuff, so a bigger holdall could feature, but could also become heavy quickly. A tote bag will be impractical and overly heavy unless you're shopping. A backpack is utilitarian but – in cosmopolitan areas – must look stylish.
How appropriate is it to carry very expensive items around?
Café, bar, and restaurant visits in cities demand more than the extemporaneous throwing of a few pieces and accessories together.
But the city [and how well you know it] determines whether a thousand buck bag is an appropriate companion. A cross body might be the more secure choice here.
Bag Style Options
The backpack
Shopping trips, beach days, extended walks and seaside restaurants may require transitioning between locales with nowhere to house your essentials and cash. In this case you want something durable, water resistant, and safe. Don't expect luxury brands to provide The North Face levels of practicality and toughness. Go for something stylish that you can sling over a shoulder and hold what you need, and that has at least one internal compartment.
The crossbody bag
Like a backpack, but a bit more stylish. The cross-body's evolution straddles bag etiquette all the way back to the 80s 'bum bag' era. Its foundations are practical [labourers and artisans transported tools in basic versions long before tourists stored passports and hotel keys].
99% anti-theft, great as carry-on luggage, heavy duty and with easy access. A good crossbody golds flat too. 
The clutch bag for a night out
A clutch is the most underrated and sometimes [due to its size] understated bag. But as this Vogue piece reveals, there is more opportunity to add colour and design daring with the diminutive portable than you'd find with most handbags or totes.
The uniqueness of a clutch owes much to its practicality – to a point – entwined with its value as a legitimate jewellery item. Finding the perfect practical/style balance is not simply a matter of size but also how it plays off various evening looks.
Chances are that on holiday your clutch will be working beachside restaurants and/or nightclubs and bars. Bright and colourful patterns on a wicker or canvas base compliment sandy/rustic environs and can be carried through to your evening schedule.      
Designer brands to go for
Gucci
Gucci Handbags, Not a heads up holiday choice, unless you opt for the Ophidia, which is all things summer in tan with floral patterns. The Soho Disco backpack is as formal as travelling gets, although don't expect tons of storage space, while the stripe backpack is practical with a box shape, adjustable straps, top handle and interior pocket. It'll hold loads and last forever, but the three-stripe pattern makes it theft bait!
Burberry
Doing better than most on the sustainability front [although that's not currently saying a whole lot], Burberry Handbags has banned fur and, more recently, exotic leathers like crocodile and snake.
You'll still get a quality bag from the British big hitter, although holidays won't be an overly casual affair. Once again, colour says a lot – the mini double Olympia bag works well against a pale linen base or with deeper and wintry blues.
The smaller Olympia in pale orange is another deep colour puncher. Playing it safe has always meant matching colours, but with tans and oranges, a striking contrast can be achieved on formal black. New York, Paris, or Barcelona visits suit such a monochrome visage with tan accruements: you'll look like other business travellers without that 'live and work here' façade.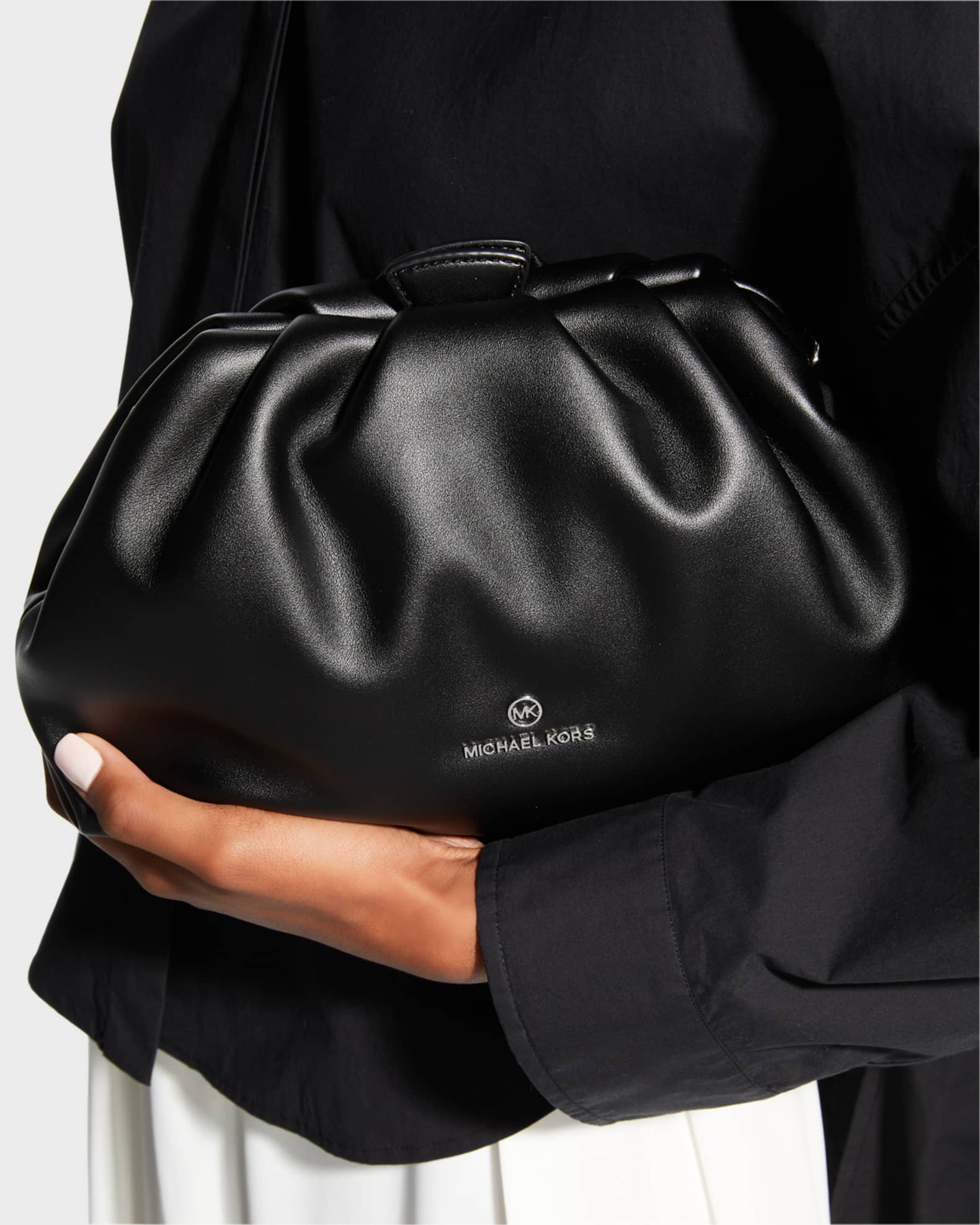 Michael Kors
Michael Kors could be the go-to bag you're looking for this holiday season. Less precious that luxury big guns like Gucci and Louis Vuitton, the Kors European marketing strategy has frequently pitched [hard] at Mediterranean bound and ocean- going holiday makers.
The Avril leather top satchel could be the answer to the "if there's one bag you take on holiday this year …" conundrum. Black, largish, with shoulder and hand straps, plenty of pockets and a stylish leather trim. It'll carry a water bottle, shades, and a romance novel. For towel, novel and water bottlr, opt for the MK backpack, with pink lightening the mood.
Love Moschino
The Italian brand brings ostentation to the party. Depending on your age and the classiness of your vacation eateries, Moschino can offer a high impact means of stamping your arrival. The 'Love …' imprint is the least expensive of the brands we're highlighting here, and a generous selection of Love Moschino Bags from shoulders, crossbodies and clutches are pre-made for high energy club nights, plastic palm trees and neon-saturated memories.
So, there you have it! You're ready for your well-earned break or extended vacation and know exactly which bag will meet your needs. Remember, think practicality first – what exactly do you need your bag for, what will the weather conditions be like, and how long will you be carrying it around for on an average day?
After that, think style. Start conservatively – blacks and greys suit most locales, but you can add punches of colour, with lighter and more heavily patterned Women's Bags better for hot summer days by the beach, bar or bistro.